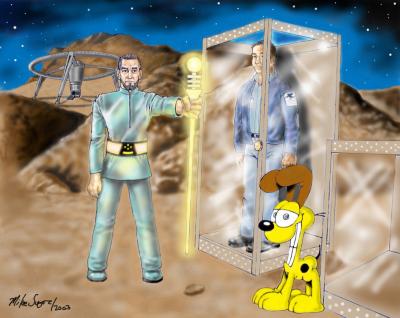 For months I get countless eMail's from you the many fans/collectors out there requesting to purchase collectible items and photos from our website. The answer was always, NO! I am not currently selling items, just displaying my collection for educational purposes and enjoyment for the fans. After much consideration here, It is now here for the many of you that wanted it. Our new featured page titled, "Finder's Keeper's". Photos will be sold at a set price of $17.00 each including postage. These photo's will include many rare shots of your favorite stars of Irwin Allen's classic TV shows. These photos are of high quality and are being sold by well known eBay sellers and friends, Bill Williams (Australia) & Bruce Fedow (Brooklyn New York).
Other items that will be sold here are items from my personal collection, and artwork from Kenn Wingle (Florida) & Mike Suzor (St. Louis). Other surprise items will also be available and announced. (Including some free give-away items) At this time only website committee members are allowed to sell items on the site. This is subject to change in the near future. For those interested in selling something of interest here (perhaps you can donate something to the website) to help defray some of the cost and time hosting the site? I am open for idea's on this subject? eMail we with your comments. RVanderpool2005@aol.com
The purpose of this "Finder's Keeper's" page is to generate more excitement and traffic to the website. Not to mention adding some fun to the site as well. It will also make finding and buying items related to Irwin Allen's collectibles easier and more enjoyable to purchase. Posting items on eBay is time consuming, not to mention, hosting fees, buyers fee's, and reposting items not being sold. This will also save time when searching for items within the hundreds of items posted on eBay daily.
The page will be updated every Sunday with new items, and old items unsold removed. We wish to keep the "Finder's Keeper's" page fun, exciting, new, and something you will all enjoy going back for a peek each week.